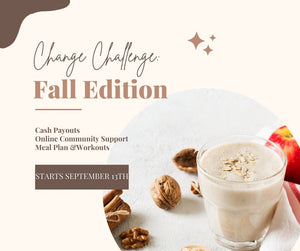 Starting September 13th, the 2021 Change Challenge:  Fall Edition is a 6-week fitness and nutrition challenge. 
What you get during the challenge:
Daily workouts

Motivation

Personalized Meal Plan Set up

One-to-one coaching for your specific goals

Supplementation Support

Meal Prep Classes

Private & Interactive Group

Personal Development Content

6 weeks to cause a positive change in you!

Cash prizes for ALL who achieve and maintain a 6% weight loss. Amazon gift card for all body Transformation winners.